Image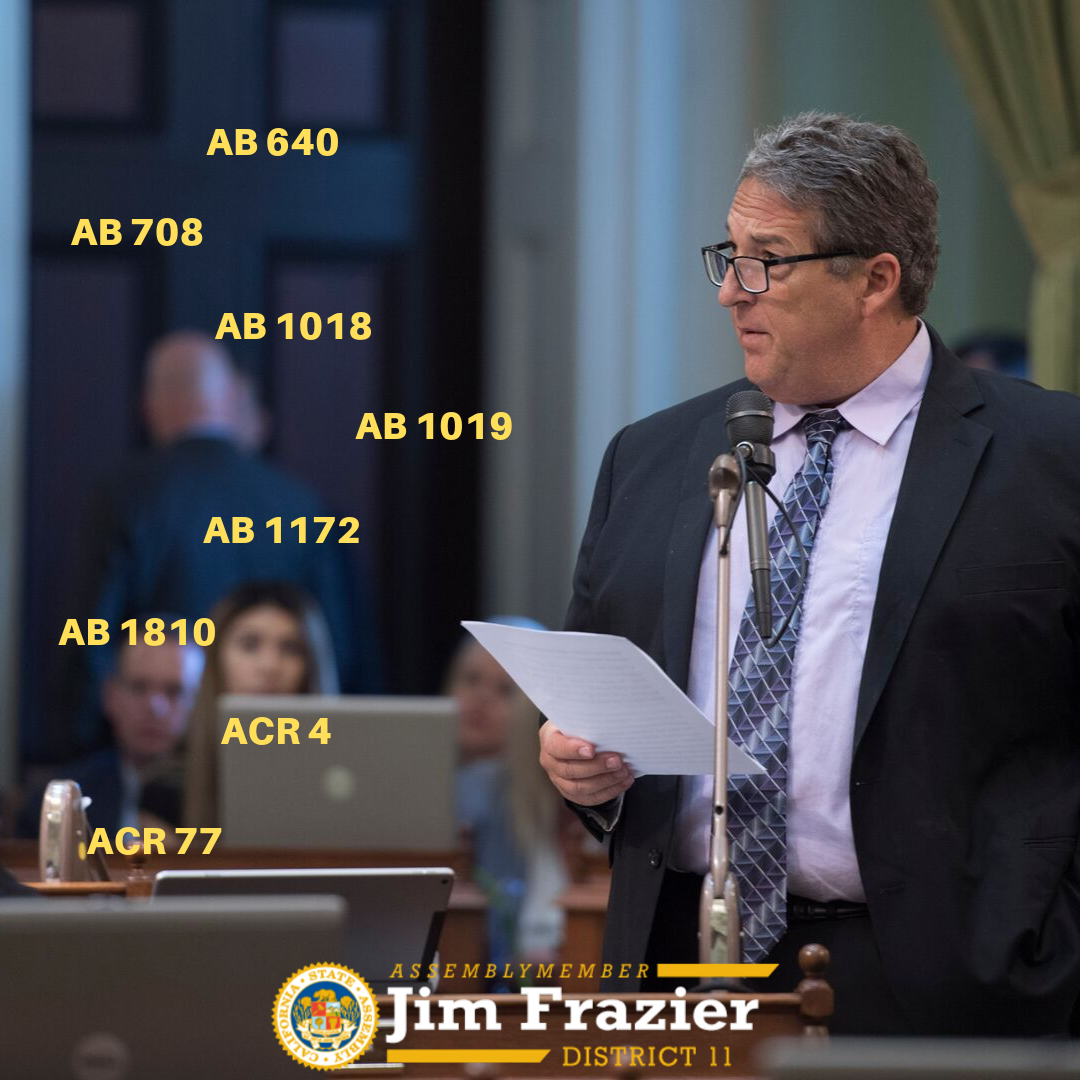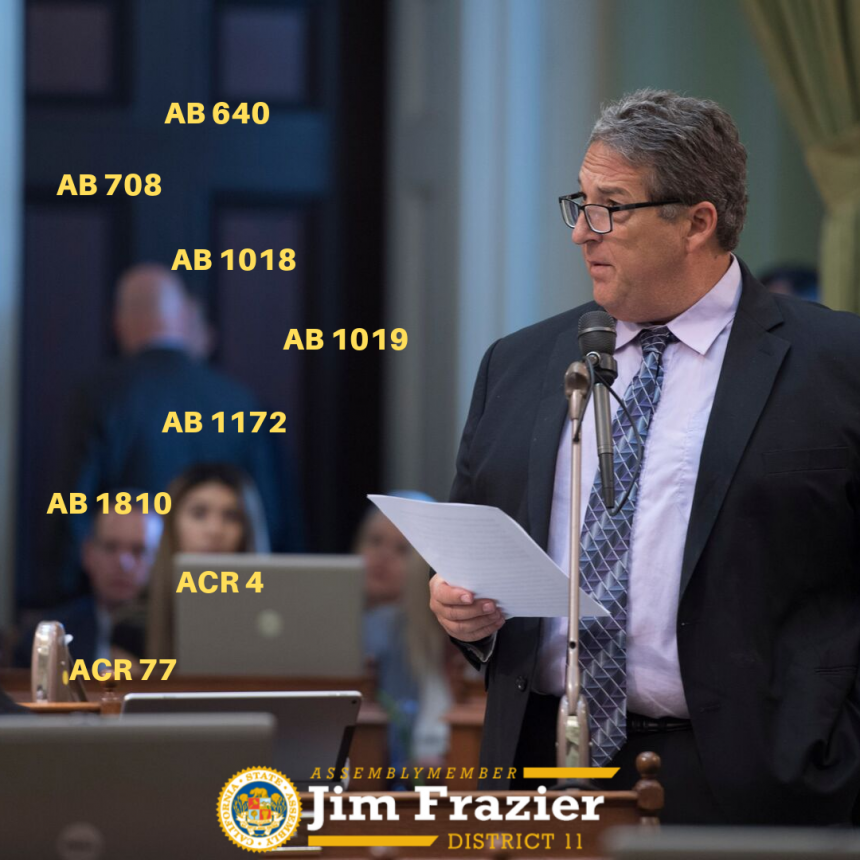 SACRAMENTO – With the end of the 2019 legislative year, Assemblymember Jim Frazier (D- Discovery Bay), had 8 pieces of legislation pass through the Assembly and the Senate with three bills still on Governor Gavin Newsom's desk awaiting signatures. "2019 was a very productive year for the legislature but we are far from being finished," Assemblymember Frazier said. "There is still much work to do when it comes to protecting the Delta, ensuring rights for at-risk populations and improving the state of transportation in California."
Once a bill has been presented to the Governor's desk, he has 30 days to either sign or veto the bill. The following bills have either been signed by Gov. Newsom or are waiting to be signed or vetoed:
AB 640- This bill requires the training course developed by the advisory committee within the Office of Emergency Services (OES) for district attorneys on the investigation and prosecution of sexual assault cases, child sexual exploitation cases, and child sexual abuse, to also include training on the investigation and prosecution of sexual abuse cases involving victims with developmental disabilities. SIGNED
AB 708- Places certain restrictions on the number of traffic violator schools (TVSs) that can be located at a specific location and places certain requirements on business hours of a traffic violator school starting January 1, 2020 in order to prevent manipulation of the TVS list on the DMV website. AWAITING SIGNATURE
AB 1018- This bill states that a licensed real estate appraiser, in the course of performing a real estate appraisal, shall not engage in nor include in the valuation of a home, the activities and responsibilities of a home inspector. SIGNED
AB 1019- This bill adds the Director of Rehabilitation and the Executive Director of the State Council on Developmental Disabilities to the list of ex officio officers in the Interagency Advisory Committee on Apprenticeship in order to encourage increased participation of individuals with developmental disabilities. SIGNED
AB 1172- Provides new protections for special needs students in non-public schools by improving on-site monitoring and staff training requirements. California's non-public, non-sectarian schools are specialized private schools that provide services to public school students with disabilities.  They are defined in statute as private, non-sectarian schools that enroll individuals with exceptional needs pursuant to an individualized education program (IEP). AWAITING SIGNATURE
AB 1810- Makes various changes to transportation-related statutes including extending specified pilot programs, clarifying considerations around Metropolitan Transit Systems, modifies CTC jurisdictions, removes inconsistencies around laws pertaining to motorized scooters and adjusts laws and regulations around the use of cannabis in taxis or limousines. AWAITING SIGNATURE
ACR 4- This resolution designates the portion of Interstate 505 between the Interstate 80 interchange and the Vaca Valley Parkway in the County of Solano as the CHP Officer Kirk Griess Memorial Highway. CHAPTERED
ACR 77- This resolution proclaims April 2019 as Distracted Driving Awareness Month in California and calls for awareness of the distracted driving problem and support for programs and policies to reduce the incidence of distracted driving. CHAPTERED
###
Assemblymember Frazier represents the 11th Assembly District, which includes the communities of Antioch, Bethel Island, Birds Landing, Brentwood, Byron, Collinsville, Discovery Bay, Fairfield, Isleton, Knightsen, Locke, Oakley, Pittsburg (partial), Rio Vista, Suisun City, Travis AFB, Vacaville and Walnut Grove.
CONTACT: Galen Dobbins (916) 319-2011 Galen.Dobbins@asm.ca.gov